Melissa Tyson Designs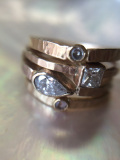 Melissa is a wife, mother and a jewelry designer. Creating jewelry is a constant journey of joyful exploration fro Melissa. Her desire is to discover the little things; the colors in a butterfly wing, the glitter in a flower petal, or a rock in the river, and to include theses in her jewelry designs. into rings and neclaces. Melissa applies the most environmentally friendly practices including the use of recycled silver, the least toxic studio chemicals, and recycled packaging.
For 15 years I have been taking the scraps and metling, molding, and hammering them into a new forms, recycling and transforming. Craftsmanship to me is about excellence but not perfection; by leaving small marks of the work-process of forming, forging and soldering the hand-made quality of crafting remains visible. A reminder that our human flaws and imperfections are engulfed with beauty
Melissa Tyson Designs specialises in hand-crafted, recycled gold jewelry that is molded around conflict free diamonds and semi-precious gemstones. Her collection spans from rustic hammered gold wedding bands to intricate pear shaped diamond engagement rings.